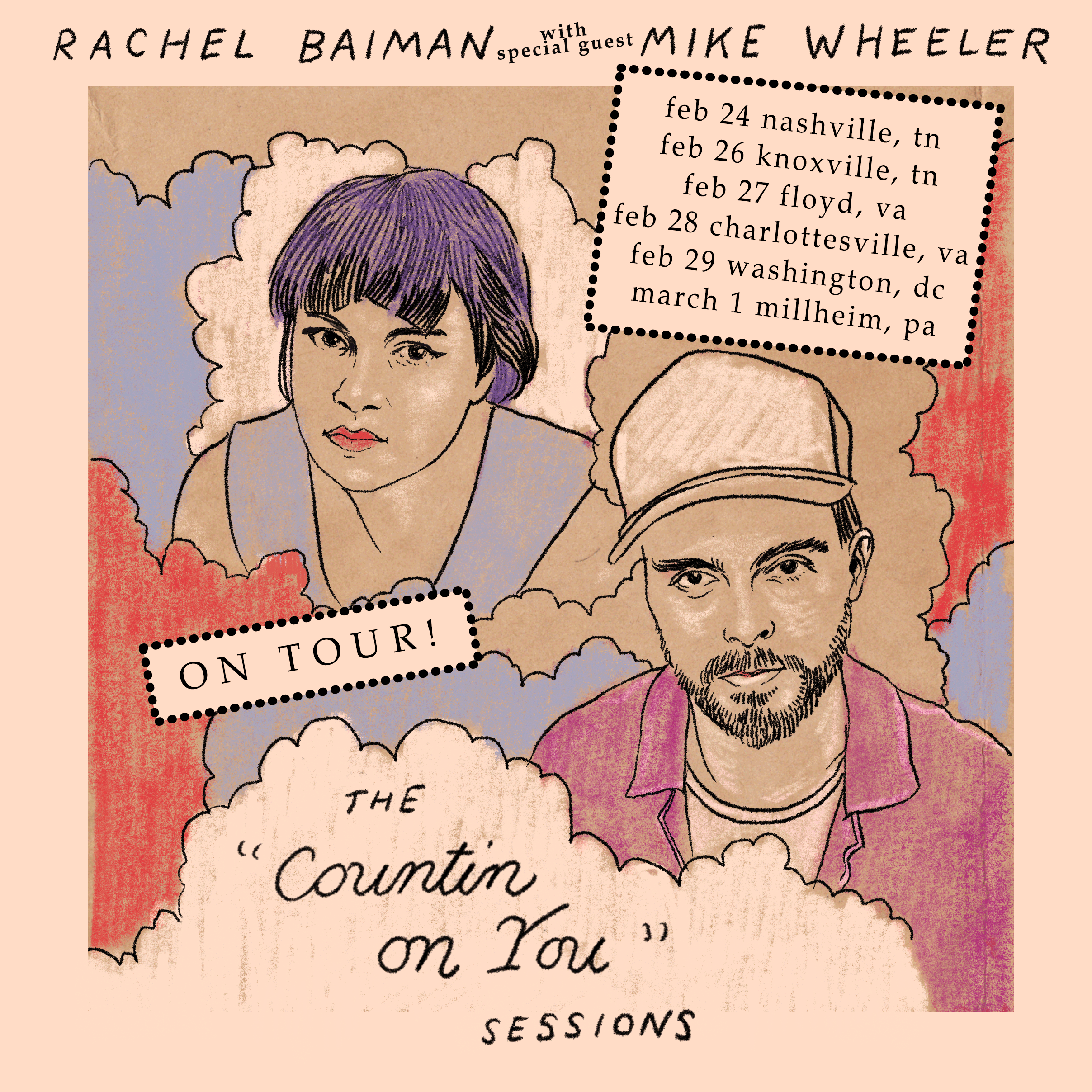 The Countin' on You Sessions began in typical Nashville fashion; with two neighbors sitting on a porch, swapping songs over beers on a warm summer evening.  Singer, Songwriter and multi-Instrumentalist Rachel Baiman was in between album cycles and spending some time at home working on new material. Baiman and her husband were living on a sort of musician compound, a pair of houses that they have been fixing up right on the cumberland river in Madison, TN.  They had recently rented out a room across the yard to their good friend Mike Wheeler, a deeply talented songwriter who had toured with Baiman's husband in an ill-fated bluegrass band, led by a peyote-obsessed madman. Since the demise of that band, Wheeler had been rolling around the country for a number of years, supporting himself by playing dive bars and clubs, going as long as 18 months without a proper place to call home.  He had finally decided to try out Nashville for a bit. 
Baiman had been a fan of Wheeler's writing and singing for years.  In fact, Wheeler played "Countin' on You" for the first dance at her wedding.  One afternoon she and asked him to come by and help her finish a song that she was stuck on.  That song became "Turn It Off," an upbeat exploration of all the ways one might hide out from the world's problems when feeling overwhelmed.  The two enjoyed singing together so much that they decided to try out a few more collaborations, performing at Dee's Country Cocktail Lounge, where Wheeler was running a songwriter's night each Monday, and working together on a video for Beehive productions "Field Recordings" series.  For that video, they played Baiman's song, "Until You Came Along," which is an exploration of a man struggling to accept his own sexuality. 
When Wheeler announced, in typical fashion, that he was moving on down the road to try out the mountains of Colorado, the two hatched a plan to record a few songs before he left. Thus, the Countin' on You Sessions were born.  Wheeler and Baiman went into Southern Ground Studios (Zac Brown Band) and recorded three songs around one microphone in one day. They brought Shelby Means in to add just one bass track and one third harmony, leaving the project almost entirely stripped down. With this recording style, they sought to capture the magic of making music just for the beauty and the joy of it.  Late at night, jamming with your neighbors, pulling out a fiddle if you feel like it, songs shared among song-lovers. The Countin' on You Sessions capture the true magic of Nashville, and Wheeler and Baiman welcome you to tune in and experience it. 
Baiman's  2017 debut album for Free Dirt Records Shame was featured on NPR's "Songs We Love", called a "Rootsy Wake-up Call" by Folk Alley, and described by Vice's "Noisey" as "flipping off authority one song at a time."  She has performed with her trio across the United States including headlining Appearances at The Kennedy Center in Washington, DC, the Celtic Connections Festival in Glasgow, and the Mullumbimby Music Festival in Australia. 
Mike Wheeler is a singer-songwriter originally hailing from Vermont. With stints in Montreal, New Zealand, Augusta, GA, Key West, Wisconsin, Nashville, & Kentucky-- where he was named "hands down, one of the finest WKY singer-songwriters going at the moment" (News4U, 2017)-- the road-tested troubadour is currently posted up in Colorado.  Wheeler's debut LP, Coydogs at the Witching Hour, produced by Grammy-winning studio engineer, Rob Eaton, will be released in 2020.  In recent years, Mike has toured nationally and abroad, performing at Folk Alliance International, ROMP, Maverick Festival (UK), Dark Songs, Aiken Bluegrass Festival, The Frendly Gathering, IBMA: World of Bluegrass, Steelbridge Songfest, and countless clubs, pubs, and listening rooms. 
"The Countin on You" sessions will be out February 21 via Tone Tree Music.